Spray Foam Insulation
Spray Foam Insulation
Spray Foam Insulation (or Foam Insulation Spray) is an insulation material that offers a complete air barrier to the building envelope, resulting in 30% or greater energy efficiency over conventional products. It's the most advanced, energy efficient and environmentally friendly insulation product available.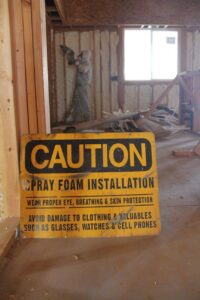 Benefits
Drastically cuts energy consumption
Greatly reduces sound transmissions
Reduces allergens
Reduces outdoor pollutants
Adds tremendous comfort with a balanced temperature in every room
Applications
Residential: Remodels, New Constructions & Retrofit.
Commercial: Businesses Warehouse Construction & Renovations |Grow Rooms |Refrigerated Food Storage | Parking Garage Ceilings |Retail Tenant Improvements | Steel Buildings | Conex Box Containers | Student Housing |Multi-family Industrial and Agriculture Wine Storage Rooms | Tank Liners | Nurseries |Refrigeration Storage Units | Pole Barns | Warehouses | Farm Structures
Open Cell Foam (½ lb foam)
Complete insulation and air barrier system
Wind proofs and seals wall, floor and ceiling cavities
Outside air cannot seep through walls, causing drafts or cold spots
Most common SPF product for residential projects due to overall functionality and competitive installation costs
Closed Cell Foam (2 lb foam)
Offers a higher R-Value per inch (nearly double)
Moisture AND Vapor Resistance
Wall strengthen for sheer and seismic requirement
Ideal for Wall applications with limited depth, Commercial wall retrofits, Metal buildings, agricultural facilities & cold storage.
Remodeling? 
Plan on doing some Remodeling?  You could qualify for Rebates for the work you are already planning on doing.  Ask us how!  You can also get an energy assessment and evaluation by one of our experienced building analysts to help guide your decision making.